"how much will it cost to engrave my gun?" that's a question that really can't be answered without knowing a number of details. Some guns cannot be engraved at all. Very few modern guns are good candidates due to the hard coatings like anodizing on ar15s, or black finishes like cerakote or the "tenifer" finish on glocks. The only guns that can be engraved without completely refinishing are stainless steel or other white guns. Carbon steel guns can be either blued or nickel plated after engraving.
​The second consideration is the type of firearm. Long guns must be sent to me completely disassembled. Some pistols require more work to take apart than others.
also the amount of prep work before the gun can be cut is a factor.
​Last and most important is what type of engraving do you want? I tell most clients to decide on a budget first. Next pick some photos of engraving you like from the internet or books. I can then look at the project and determine whether your budget and expectations are in line. If not I can usually design something to fit within your budget.
​Below are a few samples of engraving and the associated pricing. Feel free to contact me concerning your project ideas. Please include the model and manufacturer of your gun and what type of finish it has on it along with any sample pictures you may have.
​scengraving@hotmail.com

I'm often asked "how much does it cost to engrave a pistol?" That's kind of like asking "how much does a car cost?". All depends on the brand, model and accessories. Here are two 1911s at two ends of the spectrum. Left is a Ruger with only the slide engraved with a fairly simple scroll, no border and very little background removal. Price $1500. To the right is a custom 1911 with 85 percent coverage and finely shaded more complex scrolls and extensive background removal. Price $5000. To some they may look similar the they are vastly different engravings.
A job like this 1903 COLT hammerless, cut in period factory style, was around $1800 for prep work and engraving as seen to the left. The right is how the gun looks after being blued by Doug Turnbull. This adds another $450 to the price. The price for prep work can vary depending on condition of the gun.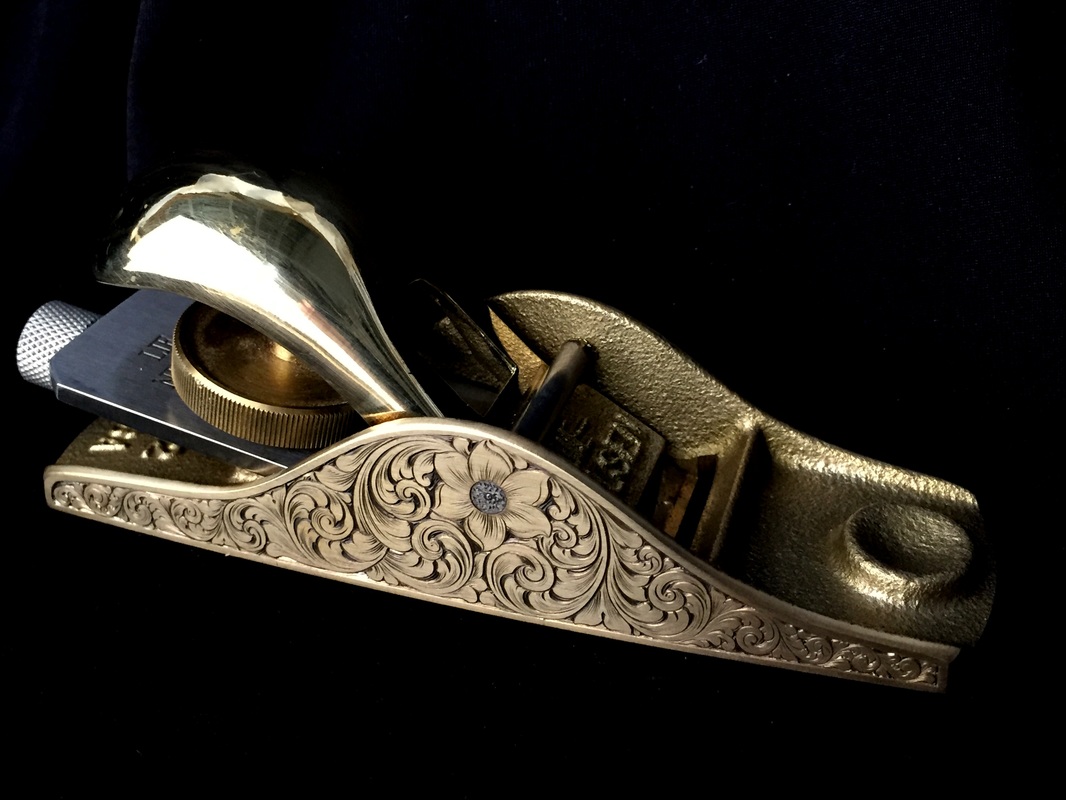 This Lie-Nielsen block plane would run from $400-$800 depending on complexity of the scrolls.

A simple little spyderco knife becomes a work of art after i finish with it. engraving isn't always expensive. a knife this size can start at $150 and range up to $600.

​
CHECK OUT THE VIDEO BELOW OF ENGRAVER STEVE LINDSEY SHADING A SECTION OF A KNIFE TO SEE JUST WHY THIS STUFF TAKES SO LONG TO FINISH